Welcome to Chinchillas Class page.
Miss Gill is the teacher
On this page you will find notices, photographs and great pieces of work we feel should be celebrated with all who visit our class page!
Useful Information
- PE Kit
Chinchillas will need to ensure that their PE kits are in school on Mondays and Thursdays. Please ensure that items of clothing are clearly labelled.
-Homework
Homework activities will be set on Mondays and Thursdays. As well as a written activity we also encourage children to read daily as well as to learn their multiplication tables and associated division facts. Spellings are set every Monday and children will have the week to learn words ready to be tested a week later.
Homework and spellings can be found here.
-Reading
Children have access to the library and an accelerated reader book which needs to be into school every day to use in allocated reading time. Reading journals have also been issued so children can record the books they are reading as well as offering space for comments to be made when reading occurs at home. These too should be in school each day.
We encourage all children to read as much as possible and encourage them to achieve 100% in the quizzes completed based upon the books read.
Our Topic this half term will be...
SAVAGE SAXONS?
We will be looking at the invasion of Britain by the Saxons after the Romans left. What life was like in Saxon times and if the Saxons really were savage.
English
Firstly this half term, we will be looking at the Old English poem of Beowulf and writing some of our own versions.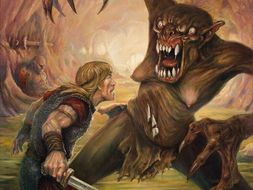 Maths
We will be looking at the four operations...
 We will be looking at strategies for solving problems mentally, with jottings and developing our formal methods.
Then we will look at solving problems involving measure.
We will also be looking at fractions.
In Science we will continue to look at
Living Things and Their Habitats
We will look at ways of grouping living things and investigate ways of identifying living things using branching keys.
We will use our school habitat to identify different living things and construct food chains and webs.
Finally, we will look at changes to habitats and adaptions.
In guided reading we will be reading non- fiction books about the Anglo Saxons.
What is differences are there between fiction and non-fiction or information books ?