Welcome to the
Squirrels Class Page
The Class Teachers are Mr Wells and Mrs Reid
and Mrs Yeates also works in our class.
Just like squirrels our class are inquisitive, determined and hardworking.
On this page you will find notices, photos and superstar work that we think should be celebrated with you at home!
Useful Information
- PE kit is needed in school every
Tuesdays and Wednesday
- Weekly spellings will be given out
on Monday and tested the following Monday.
- At home, try to practise your times tables and their corresponding division facts to help you remember them.  Use Matheletics and Times Tables Rock Stars to help you.
- Accelerated Reader books need to be in school everyday. Read as much as possible so you can get 100% in your next quiz. 
Homework
On Monday, English homework is given out.  This needs to be handed in on Thursday.
On Thursday, Maths homework is given out. This needs to be in on Monday.  Look at the Year 4 Information page if you're not sure what your homework is or click on the link below...
Our Topic this half term will be...
SAVAGE SAXONS?
We will be looking at the invasion of Britain by the Saxons after the Romans left. What life was like in Saxon times and if the Saxons really were savage.
Maths
We will be looking at the four operations...
 We will be looking at strategies for solving problems mentally, with jottings and developing our formal methods.
Then we will look at solving problems involving measure.
We will also look at fractions.
English
Firstly this half term, we will be looking at the Old English poem of Beowulf and writing some of our own versions.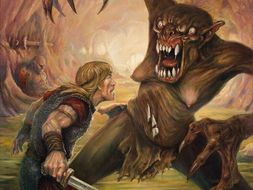 In Science we will continue looking at
Living Things and Their Habitats
We will look at ways of grouping living things and investigate ways of identifying living things using branching keys.
We will use our school habitat to identify different living things and construct food chains and webs.
Finally, we will look at changes to habitats and adaptions.
In guided reading we will be reading non- fiction books about the Anglo Saxons.
What is differences are there between fiction and non-fiction or information books ?
This year we look forward to seeing growth mindsets in action. At times our learning may be tricky but by being positive and working hard, we will all be successful. We look forward to celebrating all your successes with you.